---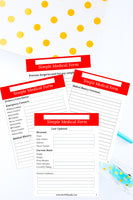 Genius!!!!!!!
This is a simple way to have your family medical information in one space (easy to grab)
Trust me... as a nurse... I wish alllll my patients had these forms
THESE ARE Genius!!!
Great Product!
These forms are great for peace of mind. In an emergency we all know the last thing we want to have to do is to try and gather information! These are great for having that information all update to date in one place to grab and go in the case of an emergency! They would also be great if your child or children are staying with grandparents or a relative! As a mom of 6 this would be great for peace of mind! Great product!
Get this now!!
Everyone needs this TODAY!!!!!
it's everything you need in one place Incase of an emergency.
You may think you will remember but take it from my own personal experience, you won't. Having this in hand will save so much time and will be able to relay information you may not remember in an emergency.
What if you're the person in trouble and can't speak for yourselves? This will be your voice.
Just what we needed!
Great visuals. A bright spot. Helping to make a connection!
A must have
As a Dad, taking a little one to the doctor or ER is very intimidating. Having this form makes this experience much easier. The staff thought this form was perfect for answering all of their questions.
Thank you for putting this together it is a very good "must have"