---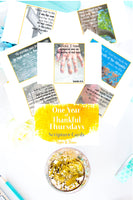 A Beautiful and Resourceful Way to memorize scripture.
This Scripture Card Ebook is the perfect accompaniment to One Year Of Thankful Thursdays. It's easy to write scriptures on Post-It notes or note cards to memorize and hang around my home. But, hanging up Scriptures with beautiful images is not only useful, but it's also a work of art.
There's a very real difference between hanging a Post-It note on my bathroom mirror or one of Susan's Scripture cards. They naturally draw your eyes so you cannot help but want to look, then memorize. The result is that I am memorizing far more Bible verses this way than simply a notecard.
This is a great gift to give to yourself or any loved one!
Beautifully done!
These scripture cards are beautifully done! It is a nice way to be able to read some scripture each day and be reminded of our blessings. Loved the pictures and the chosen scriptures. Great product!
I love this Multiple Use E-Book!
I love Susan's Scripture Cards book. Susan has done a wonderful job photographing each picture and putting the appropriate Scripture on each photo. The photo compliments the Scripture. With it being an e-book, you can even frame the Scripture cards. The Scripture Cards book will help you contemplate the Scriptures as you look the this ebook. I thoroughly enjoyed, and will continue to enjoy it.